I ordered the Ladykin Affinitic Snail Cream (RRP $19.95) from the Memebox website when I ordered my Office Essentials Memebox, basically because I was smitten with how adorable this packaging is. HOW CAN YOU NOT!? It's just too cute. Even when the cream is used up (which will take a while, there is a lot in there!) I will be keeping it to put something in there for sure. When I received it in the post, I was surprised to see how large the product actually is, and how much cream you get inside! I was expecting a teeny little snail ornament, but I got a massive one!
This paraben-free snail cream is less of a cream and more of a gel-cream hybrid consistency. I would liken it to mixing Philosophy Hope in a Jar with Hydraluron Serum! It's very hydrating and I can feel it doing my skin the world of good every time I use it. It absorbs quickly and doesn't leave a sticky residue like some facial moisturisers. It's particularly soothing as well, which is probably due to the fact that Snail Mucus is a great aid for burns as well. It also contains extracts of rosemary, chamomile, allantoin and tea tree to assist in improving damaged skin.
This product claims to help with fine lines and wrinkles, as well as reducing pore size. I have been using this product on and off over the last month or so, so I can't really vouch for it's continued use as yet (I tried the Rosehip by Essano Facial Moisturiser a couple of nights, but it didn't work too well 🙁 and one other a couple of times, first impressions to come soon!). Still, I have been using this more often than any other. I haven't seen crazy improvements, but initial improvements have been tighter pores and firmer skin. Survey says – it's good!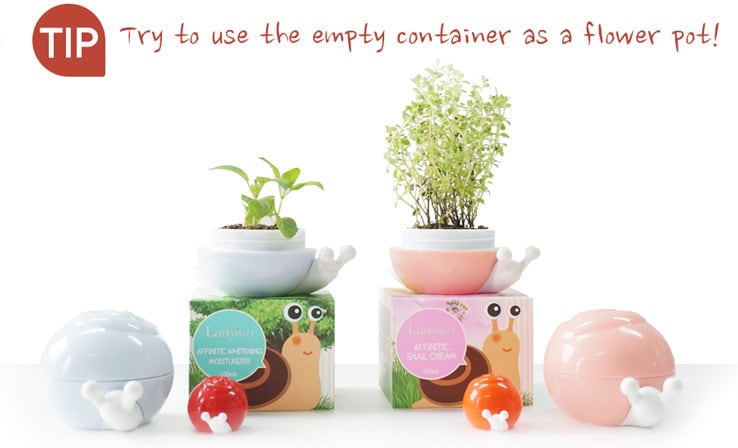 Source Image – Click image
Korean Queens suggests recycling the snail shaped pot into a flower pot when you're finished! This is too cute. I am thinking about transferring one of my cacti into it once I've finished it.
Have you tried any snail mucus products?
(Visited 3,576 times, 2 visits today)